Travel is a passion for many of us...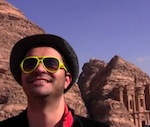 Many prefer the comfort of their familiar surroundings, while others feel a constant itch to go exploring. Regardless of which group you think you belong to, I hope this site exposes you to the wonders of this world.


The world is a giant playing ground, and it is such an amazing place. The more you travel, the more you realize how similar we are. I choose to talk about it via videos because I believe it is a great medium to communicate the world's beauty.

This world needs more travelers like yourself to get out there and spread the word that this is an incredible planet, so
you are welcome to browse the travel videos on this site, and get inspirations for your future adventures.
I do my own share in discovering and sharing the world with the rest of us. If you are a like-minded traveler, I'd be very happy to get to know you, so please contact me. Also remember to 'like' the Facebook fan page, and let me also recommend another travel site for those with young kids. Jenika Kaul's Whirls and Twirls Around the World, where she uses her daughter's imagination as a means of transportation.
If you'd also like to share your travel inspirations via this website,
consider joining the fellowship
.
I hope this site will feed the travel bug inside you.
Sincerely,
Mr. Jones-Gungor